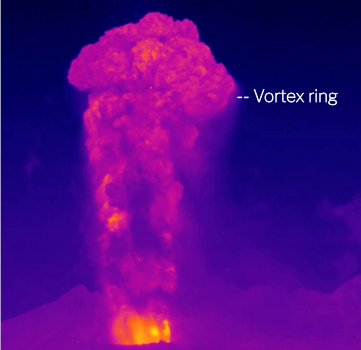 In the first moments of a volcanic eruption, a low, constant sound is emitted that can help understand how dangerous the event is going to be. This sound is hidden in a vortex ring of smoke and ash that propagates at the very beginning of a volcanic eruption.
Once captured, this "melody", can help improve monitoring volcanic activity as the size, speed and characteristics of these vortices reflect useful factors in assessing the danger and intensity of the eruption or the depth of the eruptive vent from which the eruption started. This was discovered by a team of volcanologists and physicists specializing in fluid dynamics in collaboration with the National Institute of Geophysics and Volcanology (INGV). The experts "listened to" the sound of the vortex rings of the Stromboli volcano by combining high-speed videos with acoustic recordings of the first seconds of the eruptions. The study, unique in its audiovisual approach and the first to isolate the sound of the rings, was published in the AGU journal Geophysical Research Letters, which publishes high-impact studies with immediate implications spanning all Earth and Space sciences.
To detect the sound of the volcanic vortices, the researchers set up high-speed cameras and professional microphones several hundred metres from the eruptive vents of Stromboli and used a drone to film the volcano as it emitted eruptive jets, (in this case 100-300 metres high). Although the vortex rings could not be seen with the naked eye, they appeared when the researchers analysed the high-speed videos. After measuring the size and speed of the rings and synchronizing the audio and video recordings, the researchers were able to isolate low and constant sounds emanating from the vortices and correlate their frequency with other characteristics of vortex rings. Specifically, they found a clear link between vortex motion, its sound and vent size. Other parameters, including the volcano's eruptive jet, can be correlated with the vent's internal structure.
"Vortex rings are quite sensitive to the parameters with which they are generated – explained Juan José Pena Fernández, a fluid mechanics researcher and co-author of the study – If we record the acoustic generated by a vortex ring, we can know quite precisely the conditions that made it. So if there is a change in the volcano's behaviour, we could be able to detect it".
"Even though we don't see the eruption because it is cloudy or we don't have a permanent camera over there, with this new technique we are able to know what is going on just by analysing the sound – said Jacopo Taddeucci, volcanologist at the National Institute of Geophysics and Volcanology (INGV) and lead author of the new study – My hope is that by studying the sound of the eruption, we will soon be able to monitor changes in an ongoing volcanic eruption just by the noise. This is one of the future goals of our research".