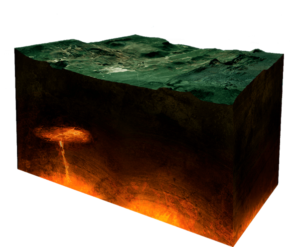 The world's first research infrastructure able to study magma directly from inside the magma chamber will be installed in Iceland, inside the caldera of the Krafla volcano. This pioneering observatory is part of Krafla Magma Testbed (KMT), the international research project in which Italy plays a leading role. Participation in the project is supported by the EPOS-ERIC European research infrastructure engaged in the study of Earth dynamics, supported by the Ministry of University and Research and based in Rome at the National Institute of Geophysics and Volcanology (INGV).
"The KMT project," ‒ explained Paolo Papale, INGV volcanologist, "wants to create a magmatic observatory consisting of a series of open wells directly inside, around and below the magma. Equipped with an instrumentation capable of operating in extreme conditions, these observatories will allow us to broaden our knowledge of volcanic systems and to understand, in greater depth, the relationships between what happens inside a magmatic body and the measurements carried out on the surface."
The research project aims to obtain direct information on the characteristics of magma before an eruption, testing for the first time theoretical models and speculations on the state of deep magmas which up to now have been studied based on indirect observations. The project also has important implications for the industrial and energy sectors.
"No one has ever used drills in extreme conditions with the intention of leaving wells operating in the long term," said Paolo Papale, "so it is necessary to understand which are the best materials to use, both for the construction of the wells and for the equipment that will be installed there, in areas where temperatures reach 900 °C and the extreme acidity of the circulating fluids makes the conditions highly corrosive."
The study will also investigate the possibility of extracting thermal energy directly from the magma and of exploiting it as a clean, renewable energy source at volcanoes with similar characteristics, such as the Campi Flegrei volcanic area near Naples. The Krafla volcano bears significant similarities to the Campi Flegrei area as the calderas of both volcanoes are characterized by magma intrusions and hydrothermal circulation.
The Krafla Magma Testbed project involves 38 research institutes and companies from 11 countries and has recently received significant funding from the prestigious International Continental Scientific Drilling Program (ICDP), the non-profit organization that supports scientific research projects involving land-based drilling aimed at the responsible management of natural resources and the environment.
Source: INGV