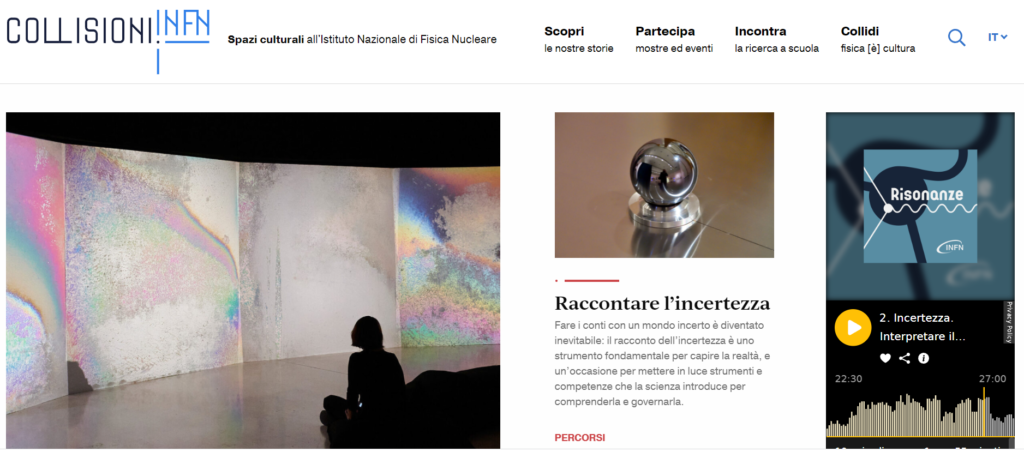 A web space for intercultural dialogue between science, art and literature able to promote nuclear physics topics in schools and among the general public is now online. Collisioni.infn – Spazi culturali all'Istituto Nazionale di Fisica Nucleare (Cultural Spaces at the Italian Institute for Nuclear Physics) is the new site conceived by the INFN as a place to enjoy and spread the culture of nuclear physics through a number of cultural and educational activities.
With its simple, contemporary layout, Collisioni.infn offers a constantly updated overview of the activities developed and organized by the INFN, such as exhibitions, events, exhibition spaces, installations and educational projects. The site consists of different sections aimed at general public, schools and cultural institutions that have always collaborated with the Institute in the design and implementation of wide-ranging cultural offers.
Collisioni.infn also features sections with interviews and in-depth analyses both to read and to listen to. In addition to the editorial columns Incontri (Encounters), Immagini(Images) and Staffetta letteraria (Literary marathon), the project also includes a podcast sectionfor the spread of scientific culture in audio format through the main web listening platforms. The audio programme includes the podcast Risonanze.Dialoghi oltre la fisica (Resonances. Dialogues beyond physics), which presents INFN events and conferences through dialogues with researchers, artists and performers, and Tracce. Lessico delle particelle (Traces. The lexicon of particles), the podcast in eight episodes that explains particle physics terms in a constant search for correspondences between everyday language and the language of research.
Source: INFN