An innovative artificial skin, which emulates a family of human skin corpuscles known as Ruffini corpuscles, will enable the safe physical interaction of machines with the surrounding environment and people. Designed to give collaborative robots an artificial sense of touch that enables them to "sense" the world around them, the innovative biomimetic skin consists of a soft polymer matrix that integrates photonic Bragg grating sensors: an example of perfect interaction between physical and artificial intelligence.
The new technology is described in a study, published in the international scientific journal Nature Machine Intelligence, coordinated by the BioRobotics Institute of Sant'Anna School of Advanced Studies, in collaboration with the Italian Institute of Technology, Sapienza University of Rome, Campus Bio-Medico University of Rome and Ca' Foscari University of Venice, and the ARTES 4.0 Competence Centre.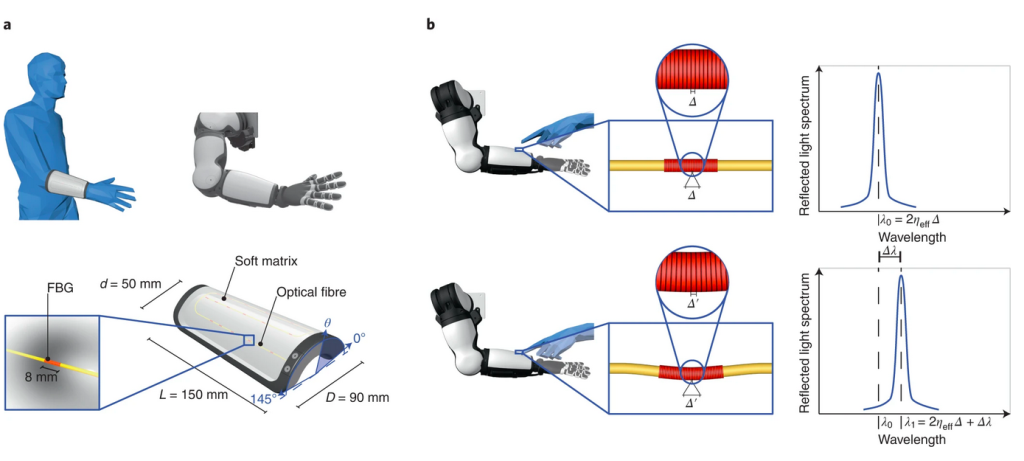 "With this groundbreaking artificial touch technology," explained Calogero Oddo, professor at the BioRobotics Institute at Sant'Anna School and scientific coordinator of the study, "we have shown the ability to encode, over a large area with complex geometry, two fundamental properties of human tactile perception: the location of the contact point and the intensity of the force with which the robot interacts with the environment."
The positioning of the sensors in the artificial skin was based on physical intelligence: in order to "talk to one another" through the skin, sensors must be placed at a certain distance and depth, while artificial intelligence was used for the interpretation of the signal produced by the sensors.
This technology falls within the field of Collaborative Robotics and will enable robots to safely interact with humans and assist them in performing daily tasks in scenarios ranging from medical to surgical robotics and for personal assistance. Another scenario is that of Industry 4.0: the robot will become a work companion reducing physical effort and accidents in the workplace.
The technology is the result of the collaboration between Italian universities and research centres of excellence. It was developed at the BioRobotics Institute of Sant'Anna School of Advanced Studies thanks to a scientific interaction of the Neuro-Robotic Touch Lab, coordinated by Calogero Oddo, with Edoardo Sinibaldi of the Italian Institute of Technology, Eduardo Palermo, a researcher at the Sapienza University of Rome, Emiliano Schena, a professor at the Campus Bio-medico University of Rome, with Ca' Foscari University of Venice and with the ARTES 4.0 Competence Centre.
This interaction was fundamental for the development of the technology, with several years of research also financed by the Ministry of University and Research through the PARLOMA project, focused on the development of a collaborative robotic arm, Regione Toscana through the TUNE-BEAM project, focused on the study of the human sense of touch, and by the European Commission through the EINST4INE project, focused on collaborative robotics for Industry 4.0.
"An intense and long-lasting collaboration between research groups of excellence," commented Eduardo Palermo, "for a challenging goal: the interaction between physical and artificial intelligence reduces the need for barriers, enabling robot cooperation, a fundamental principle for Industry 4.0 and beyond. The extension of tactile sensation over the entire structure of robots allows interaction with humans to be perceived in a new and enhanced way, making the machine capable of adapting its behaviour to its surroundings."
"Improving workplace safety, the results of a surgical procedure and the quality of life of people in need of assistance are among our main ambitions," Schena added. "Involvement with other Italian excellences in this project made a significant contribution to the implementation of activities aimed at the development of technology to the benefit of people, thus putting science at the service of human beings."
"Thanks to the collaboration with ARTES 4.0 Competence Centre selected by the Ministry of Economic Development within the Impresa 4.0 programme," said Paolo Dario, scientific director at ARTES 4.0 and emeritus professor at Sant'Anna School of Advanced Studies, "these new enabling technologies will be transferred from the research laboratory to application and the social impact."