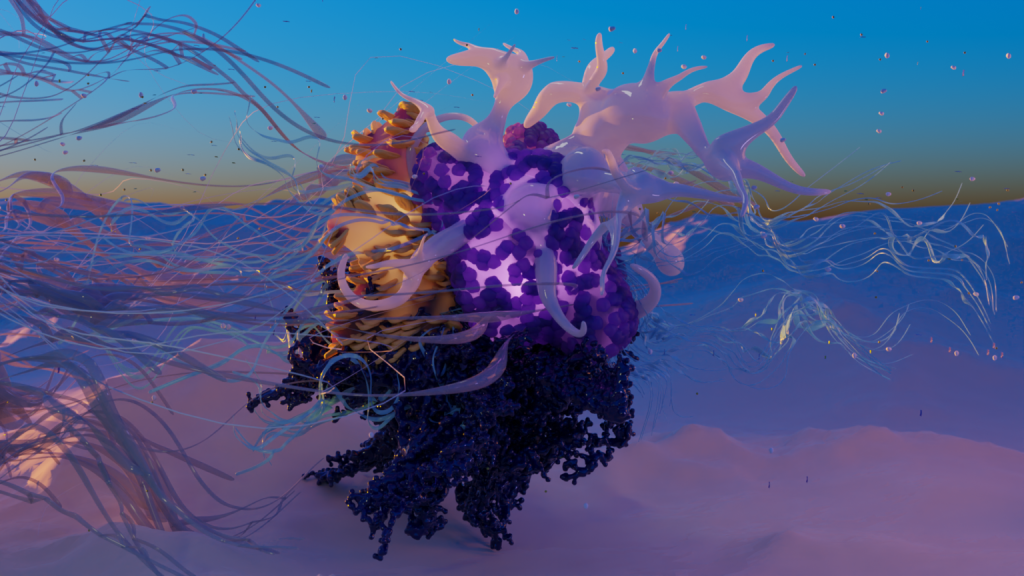 Promoting hybrid collaboration between science, technology and arts and fostering dialogue between researchers and artists to explore the great challenges of our time are the focus of The Sentinel Immune Self artist residency project by Danish artist Sissel Marie Tonn,hosted by the public research organization Area Science Park.
The artist residency, hosted by Area Science Park in collaboration with MEET Digital Cultural Center, is one of the 21 fellowshipsfinanced across Europe by S+T+ARTS (Science + Technology + Arts): an initiative of the European Commission launched under the Horizon 2020 research and innovation programme.
The recently presented project is an immersive interactive animation: a science fiction universe in which humans share immune responses with all other species affected by microplastic pollution.
By recreating an allegory of the evolutionary processes, the artist intends to warn the public about the profound impact of pollutants on the human body and the ecosystem. The idea around which the project revolves stemmed from the exchange of views between the artist and researchers from the genomics and epigenomics laboratories and from the Data Center Orfeo at Area Science Park, starting from the question: "how could we preserve the evolution of species by improving the capacity of communities to be resilient when challenged by diversity?"
The collaboration with scientists at Area Science Park began in February 2022 and also involved scientists from the Trieste research system who, thanks to the Danish artist's inspiration and enthusiasm, got involved in the reflection on and rediscovery of the complexity and intrinsic interconnection with the world around us.
Sissel Marie Tonn's work will be on display from October 2022 at the Maxxi Museum in Rome, at the MEET Digital Culture Center in Milan, at Ars Electronica in Linz (Austria) and at ZKM, Center for Art and Media in Karlsruhe (Germany).