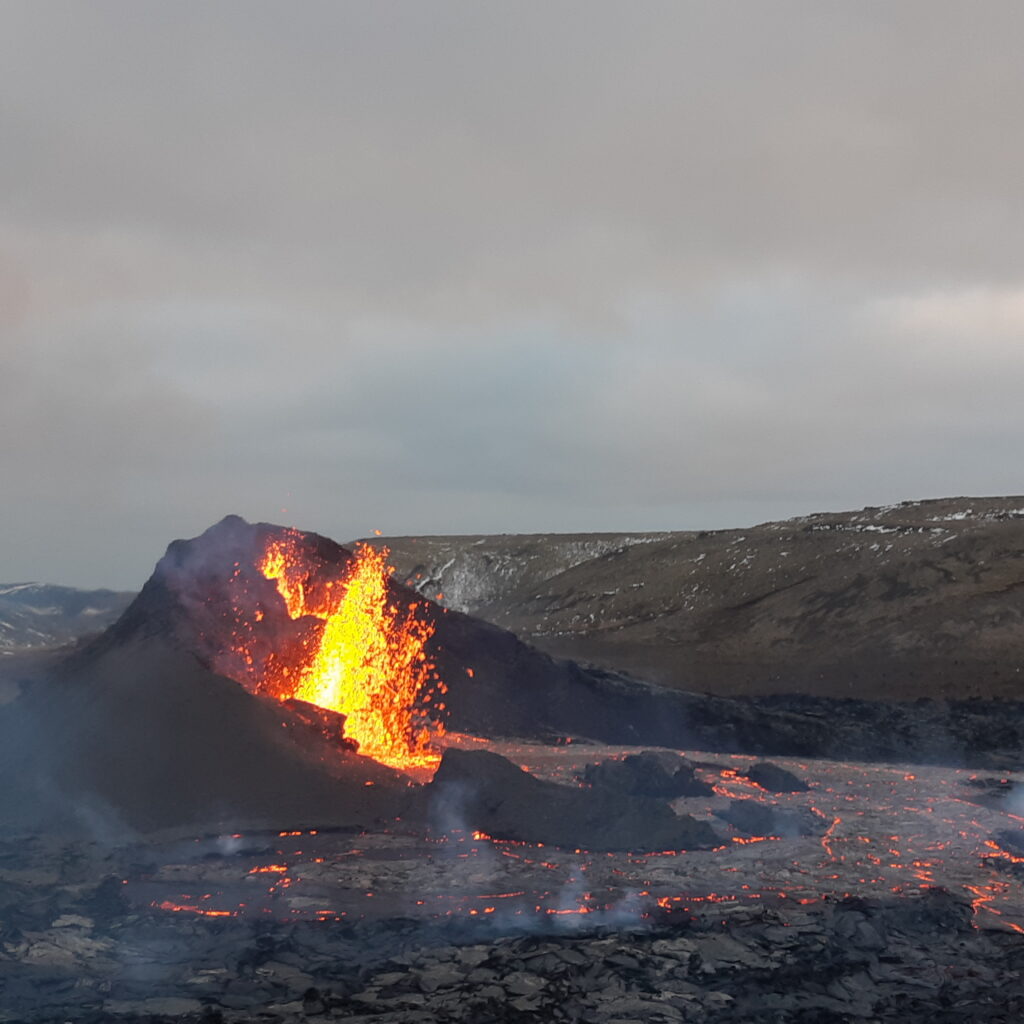 The analysis of lavas and gases emitted during the 2021 eruption of the Fagradalsfjall volcano in Iceland provides new data on deep magma ascent mechanisms, which will be useful for understanding eruptive processes and for future monitoring of volcanic activity. These are the findings of a study entitled "Rapid shifting of a deep magmatic source at Fagradalsfjall volcano, Iceland", recently published in the journal Nature.
The research – carried out by an international team led by the Institute of Earth Sciences, University of Iceland –involved researchers from the Department of Earth and Marine Sciences of the University of Palermo and from the Etna Observatory of the National Institute of Geophysics and Volcanology (INGV-OE).
The volcano under study is located on the Reykjanes peninsula, about 40 kilometres from Reykjavík. Volcanic activity in this area over the last 3000 years has been characterized by eruptive periods of about 200-300 years, usually separated by 800-1000 years of quiescence. The 2021 eruption, which began on 19 March after about 800 years of quiescence, was preceded by weeks of intense seismicity and ground deformation and was initially characterized by a low magma effusion rate that later evolved into intense lava fountaining.
Analyses carried out by the researchers, who examined lava and volcanic gases emitted during the first 50 days of the eruption, revealed that, unusually for Icelandic volcanism, the magmas emitted during the eruption were directly sourced from a magma reservoir at great depth in a region called the Mohorovičić discontinuity, or Moho: the boundary between the Earth's crust and the mantle.
Specifically, the researchers observed that the chemical composition of the erupted lava changed very quickly. During the initial phases of the eruption, the use of geobarometers suggested that the lava was predominantly sourced from an area close to the crust-mantle boundary, whereas over the following weeks, the composition of the magmas changed indicating the lava was coming from greater depths. These results demonstrate that the near-Moho magma storage zone is an extremely dynamic environment, in which magmas with different characteristics mix on extremely short timescales, and, in any case, more quickly than previously believed.