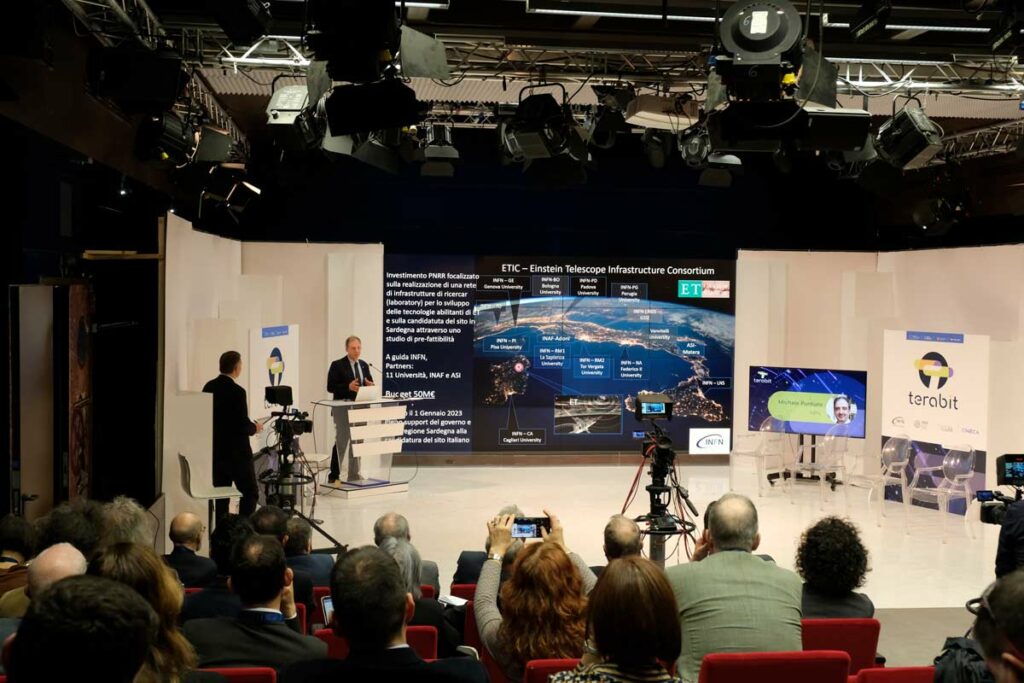 Enhancing and integrating the three existing strategic digital research infrastructures – GARR-T, PRACE-Italy and HPC-BD-AI – is the objective of Terabit Network for Research and Academic Big Data in Italy (TeRABIT). The project, recently launched in Cagliari, involves the construction, by 2025, of a next-generation interconnection network that will enable the exchange of data at a speed of 1,000 billion bits per second.
Funded with 41 million euros under the National Recovery and Resilience Plan (NRRP) as part of Mission 4, coordinated by the Ministry of University and Research (MUR), TeRABIT is managed by a group of researchers from the National Institute for Nuclear Physics (INFN), the National Institute of Oceanography and Applied Geophysics (OGS), GARR Consortium and CINECA.
The state-of-the-art digital infrastructure, based on fibre optics, will make collaboration between scientific communities across the country faster and more efficient, eliminating disparities in access to high performance computing and allowing Italian researchers to compete at the highest level in Europe and worldwide, regardless of their geographical location. Specifically, the TeRABIT super-powerful network will support the academic-scientific world in addressing increasingly complex requirements related to the production of a huge amount of data to be selected, stored, shared, processed and interpreted.
"It is a great honour to be able to make such a significant contribution to the Italian research system with this project," said Mauro Campanella, TeRABIT's scientific coordinator. "The high-performance computing and network infrastructures that we will create with the best technologies available today, will enable our country to play a decisive role on a global level and our researchers to have access to services for extraordinarily powerful data analysis".
The decision to hold the project launch event in Sardinia was no coincidence. It is here, in fact, that TeRABIT will create, for the first time, a double superfast fibre-optic link with submarine cables, which will ensure not only fast data transmission, but also system redundancy and reliability.
The project is also aimed at supporting Italy's bid to host, on the island, the Einstein Telescope, a third-generation gravitational-wave detector. This advanced research infrastructure will produce a large amount of data that it will be possible to share from Sos Enattos – the candidate site to host the facility – with the scientific community worldwide, thanks to the ultra-fast interconnection provided by TeRABIT.